In the future, the demand for locks in China will increase by 20% annually.
January 28 19:04:34, 2020
According to statistics, China's locks are exported to 160 countries and regions, and the annual export earnings reached 8.374 billion yuan. China has become the world's largest producer and consumer of locks. With the increasing demand for decorative home hardware, the future lock market will continue to grow at a rate of more than 20% per year.

In recent years, China's residential housing, commercial housing, and automobile production have also increased rapidly, making China's demand for various locks market growing.

According to the data obtained by Jiuzheng Building Materials Network, the output of automobiles in the first half of 2007 was 4.59 million, an increase of 22.9% over the same period of last year. Among them, 2.43 million cars, up 25.8% over the same period of last year. The rapid growth of automobile production is car locks. The market provides a large space for development, especially the high-end smart anti-theft lock in the car lock has great market potential.

In addition, the production and sales volume of agricultural vehicles in China has increased significantly. With the "automobileization" of agricultural vehicles, the demand for vehicle locks will also increase significantly. The development of agricultural vehicles will provide a broad market for the lock industry.

From the perspective of the lock market, the door lock market will still be dominated by mechanical locks for a long time. China's domestic demand and exports are growing and growing rapidly. The growth of demand provides a good space for the development of locks in China.

At present, China's lock products have changed from the single mechanical padlocks and door locks to the multi-field, multi-color, multi-functional and multi-variety. The whole industry has more than 100 series of more than 8,000 varieties of products in 20 categories; the product structure is also from traditional single-door locks, double-tongue locks and other mechanical products, to spherical door locks, handle locks, electronic locks, Magnetic card lock, IC lock, car lock, motorcycle lock, fingerprint lock, digital lock and other electronic, mechatronics, biometric, intelligent development, and focus on product functionality and decorative combination, basically formed a high , medium and low-end supporting product system.

However, China's high-end hotels, hotels and other locks still rely on imports, the domestic high-end lock market is still controlled by the ocean lock, in this regard, our products are currently not competitive. Although China's lock industry has improved in terms of product technology and product quality, the development of high-end locks still needs to be worked hard.

Therefore, the future development direction of China is:

1. Develop high-grade locks

The market outlook for high-end locks is optimistic. Because of the high technical content of high-end locks and the more humanized and personalized features, the profit of products is relatively high. It is necessary to increase investment in high-tech locks and promote the structural upgrading of China's lock industry.

2. Implement brand strategy

The well-known enterprises and brands in the lock industry can produce huge economic and social benefits. After China's accession to the WTO, China's locks face more severe challenges. Competition has prompted enterprises to respond positively, and China's lock production has moved from a big country to a strong country.

3. Implement diversified development

Lock companies must accurately position themselves and the market and implement diversified development. In the so-called field, we design locks that cater to the public and have individual needs, avoiding the fierce competition brought about by the similarities with the mass locks. In addition, enterprises must take a diversified market path and avoid the fundamental development of enterprises affected by certain factors.

Stainless Steel (Stainless Steel) is referred to as acid-resistant stainless steel, resistance of air, steam, water and other weak corrosive medium or stainless steel having resistance as stainless steel; and the resistance to chemical corrosion medium (acid, alkali, salt and other chemical leaching pitting) corrosion of steel known as acid-resistant steel. As the two differences in the chemical composition of leaving their corrosion resistance is different from ordinary stainless steel general impatience chemical corrosion, and acid-resistant steel are generally of a stainless steel.

So now Stainless Steel Padlock with his unique quality, it won a lot of the market, particularly in Europe, is located in the cold zone countries.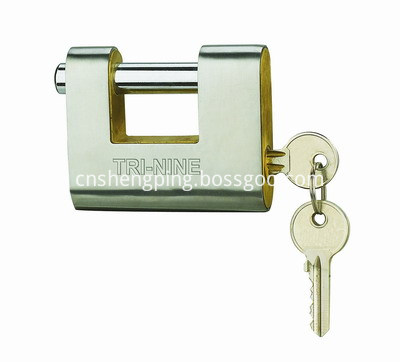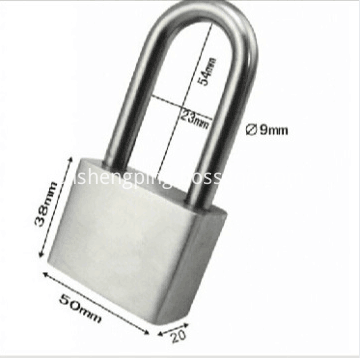 About us

Shengping Safety Protection Locks Manufactur, create to set up in 1989, is an enterprise specialized in the manufacture of different kinds of locks. We have obtained quality system authentications as ISO9001-2000 International Quality Control System Attestation,and we have obtained self-operation export and import right etc. According to many years of producing and R&D experience, we produce locks more than 100 kinds of specification with different kinds of raw materials & styles. Moreover, we can do customized work as per clients`designs.

Bearing the sense of [quality gets victory", our products are popular in domestic market; and with the fame of our product`s [good quality and best prices", we have increased our export all over the world. Now our product lines are mainly for export.

We tightly hold the quality control system, follow the contract, and keep faith and valued mutual benefit. We sincerely welcome customers home and abroad and our craft brothers to develop and flourish the locks market.




Stainless Steel Padlock High Security Padlock

Stainless Steel Padlock,Security Stainless Steel Padlock,Circle Steel Padlock,Disc Stainless Steel Padlock

Shengping Safety Protection Locks Manufacturer , https://www.chinajiuzhou.com